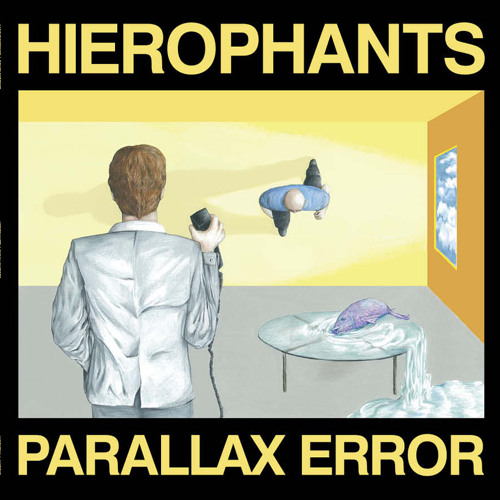 Kickin off Parallax Error with some ole '50s, '60s Bo Diddley guitaring but that ain't half of it. If it's from Australia and it's on AARGHT and GONER it's gonna be pretty off and it's gonna be pretty much the best shit you've listened to all year. Happened last year with me and the Ausmuteants. Great thing too is you can jump in after the fact, you know after their first few singles and/or album, and still feel OG because what they doing never loses its realness quotient. So with the Hierophants, I see ma boy Jake is in the band, in fact this was recorded behind his old house. Sounds pretty legitimate to me, but I'm the last to know about production.
For all I know these Australians could be fly by nighters, forming and disbanding just to confuse us Americans, right more than a few of us try too hard to sound 'right' or something like that. This Hierophants album, mostly, is that fine mesh of synth and vocal kinkiness – music to anyone's ears who knows what I'm talking about – and bass/drum groove funkiness. I kinda fell off the new wave old wave synth wave black wave thing somewhere between Devo and the Lost Sounds (fucked up, didn't I?, but place this down with a soft cushion in between those eras. Those epochs.
And I can't tell the difference between guitar and synth. Everything is so mechanical, but unpredictable and doesn't that vibe with rock 'n roll legends in bands previously mentioned? I've realized it's dumb to comment on songs versus provocation and why things are exciting while I listen and type. Cause it's weird. But the music is fairly nerdy too. This is the dance music of somewhere. If the Hierophants are a top spin in a modern DJ's collection, damn, come on please transport me there and allow me to spend some vacation days. They don't let things get too f'ed and they intelligent too.